The Code of Ethics describes the rules for achieving our goals in terms of the company's social responsibility.
continue »
DOWNLOAD PDF


ALA OFFICINE SpA obtained certification for the first time in 1996 of its Corporate Quality Management System in accordance with UNI EN ISO 9001...
continue »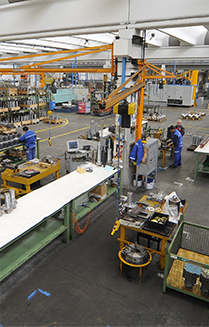 NEWS
SAMOTER 2023
The SaMoTer exhibition, which was supposed to take place in March 2021, due to the Covid emergency, was canceled and postponed to March 2023.
continue »
GIS 2021
We will be present at the GIS 2021 exhibition in Piacenza on 7 and 8 October 2021. You will find us in Hall 1 - Stand A19.
continue »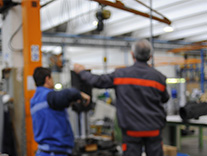 OUR VISION
Orientamento al cliente

Leadership

Attenzione al personale

Approccio per processi

Miglioramento continuo

Decisioni basate sulle evidenze

Rapporto con i fornitori
continua »
hydraulic swivel joints » demolition and recycling
HYDRAULIC SWIVEL JOINTS
Demolition and Recycling
The performance of this type of hydraulic joint in terms of oil pressure and temperature is among the highest in the entire range of ALA hydraulic swivel joints. In some cases they have particular shapes in order to facilitate integration into this equipment and in other cases they are very small.

A common characteristics is the high grade of protection against infiltration by external agents. The hard work to which they are exposed requires swivel joints with significant wear resistance. The major Demolition, Recycling and Handling Equipment fitted with hydraulic swivel joints are: