The Code of Ethics describes the rules for achieving our goals in terms of the company's social responsibility.
continue »
DOWNLOAD PDF

EU Funded Project 4.0
ALA OFFICINE SPA has launched a project to modernize the company's production department financed by the European Union.
continue »
DOWNLOAD PDF


ALA OFFICINE SpA obtained certification for the first time in 1996 of its Corporate Quality Management System in accordance with UNI EN ISO 9001...
continue »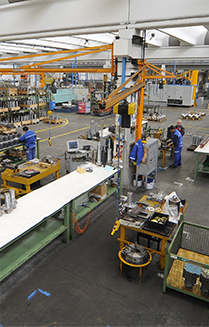 NEWS
INTERMAT 2024
We will attend the Intermat 2024 Fair which will be held in Paris from 24 to 27 April 2024.
We are waiting for you!
continue »
continue »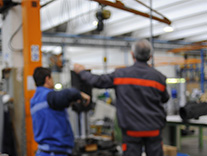 OUR VISION
Orientamento al cliente

Leadership

Attenzione al personale

Approccio per processi

Miglioramento continuo

Decisioni basate sulle evidenze

Rapporto con i fornitori
continua »
HYDRAULIC SWIVEL JOINTS
Hydraulic Swivel Joints for

Military Sector
The hydraulic turning joint for the military sector is generally used on military crane trucks or hoisting systems installed on military machinery such as recovery tanks, etc. The military sector requires numerous certifications and means that the hydraulic joints must be design in accordance to strict technical specifications.

In some cases the electrical collectors paired must be ATEX in order to be inserted into explosion proof systems. The major Machinery and Crane Trucks for the Military Sector fitted with hydraulic swivel joints are: