The Code of Ethics describes the rules for achieving our goals in terms of the company's social responsibility.
continue »
DOWNLOAD PDF


ALA OFFICINE SpA obtained certification for the first time in 1996 of its Corporate Quality Management System in accordance with UNI EN ISO 9001...
continue »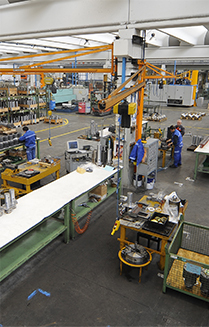 NEWS
APPOINTMENT AT INTERMAT 2018
From 23 to 28 April 2018 we will be present at the INTERMAT international fair in Paris.
We are waiting for you!
continue »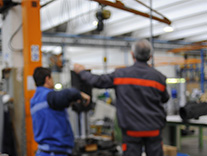 OUR VISION
Orientamento al cliente

Leadership

Attenzione al personale

Approccio per processi

Miglioramento continuo

Decisioni basate sulle evidenze

Rapporto con i fornitori
continua »
hydraulic swivel joints » aerial platforms
HYDRAULIC SWIVEL JOINTS
Aerial Platforms
These types of machinery can differ greatly from one another and this translates into an extremely wide range of joint shapes and sizes.
Within the range of hydraulic joints there are those which are extremely compact or with central passages for the water hose which require significant sizes.

A common characteristic is the electrical application which is often complete with Can Bus signals. The major Machinery for Aerial Work fitted with hydraulic swivel joints are: